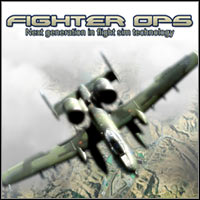 developer : G2 Interactive
genre : sims / flight
platform : PC / Windows
release date : World : August 2010
play modes : single / multiplayer
multiplayer : LAN / Internet
game language : English
age requirements : 12+
suggested system requirements : not specified
MISSION

Create the ultimate modern day, high fidelity Combat Flight Simulation, catered specifically to the desires and requirements of the flight sim community.
BRIEFING

Build an extremely accurate training course, following the USAF UPT and IFF curriculum and utilizing the knowledge of actual USAF instructors who are attached to the Fighter Ops team.

Model in high detail the T-6 Texan II, T-38 A & C variants and T-37 aircraft for use in the first training modular release.

Include the following flyable combat aircraft : the A-10 Thunderbolt II, F-15 C/D&E variants and the F-16 C&D Falcon, with additional aircraft and modules released on a continuous basis.

Model the spherical globe to include the entire land/sea mass of the planet, and to accurately model the thousands of airports and NAVAIDS.

Model the single player experience to the highest levels of realism possible.

Create a stable and configurable multiplayer environment that is favorable to competition, cooperation and participation.

Incorporate, in due time, a fully Dynamic Campaign Engine that is intelligent enough to process the numerous levels of a full-scale air and ground war, which builds over and above on current standard levels.
FLIGHT PLANNING

Complete the single player training and combat flight modules and provide demos and interactivity which is intended for the community's input and for future enhancements, and to also deliver an accurate mission simulation experience.

Use the community's ideas, input and desires to shape the simulation by allowing it to grow step by step into the ultimate platform.

Provide unique community information and sharing procedures that will ease the exchange of ideas, suggestions and valuable solutions.

Present a structure for the active team members of this development, who aggressively work to continually improve Fighter Ops, and to share with them the future evolution of XSI.

Consistently progress and develop Fighter Ops, releasing modular improvements that will continuously bring to date new and exciting technologies and changes as they become readily available.
PRE FLIGHT

Provide the flight sim community with the incentive, motivation, desire and enthusiasm needed as part of the ultimate solution to the communities many wishes.

To converse with the flight sim community, and to meet its desired requirements, so that we may breakdown the barriers of separation and finally unite this community as one.